Last weekend I made rainbow cupcakes for my little brother's birthday party. They were a hit! Since it's so simple, I thought I would share!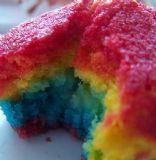 Using WHITE cake mix, follow the directions on the back of the box for making the batter. Separate your batter into 4 (or more) different bowls/cups/whatever you choose. Add different color food coloring to each. Feel free to create your own color combinations. I sure did.
Then in each cup of your baking pan, layer a little bit of each color on top of each other. DON'T MIX! Just pour one color on top of the other. Then once they are all filled half way, I kind of slightly turn the pans from side to side, and end to end so that the cups have an even layer on top.
Continue following the baking instructions on the box.
It's that simple, but it somehow makes you feel like you've created a masterpiece by doing something a little bit more creative!
This would be a fun afternoon project with kids :)